HELP
Unfortunately not. Each order is processed automatically and once it has been confirmed, it is not possible to modify the details. To purchase additional items, you must place a new order. To return any items please refer to our Return Policy.
We are sorry, but once an order has been confirmed, it is processed automatically and cannot be canceled. The package can be returned as indicated in our Return Policy.
The promotional codes of Inter Online Store give you access to exclusive offers. To receive Promocodes, subscribe to our Newsletter.
To take advantage of a promotion, enter the code in the appropriate field at Cart and click "Submit". Only one promotional code can be used for each order.
If the code doesn't work please double check the dates of the promotion and which products and categories it can be applied to from the newsletter.
The amount paid is lower when, at the moment the order is dispatched, one or more of the articles is not available; the charged amount will correspond exclusively to the value of the articles that were effectively shipped.
Please note that if your navigation country is managing a different currency than €, CHF, GBP and USD, the equivalent price in your local currencies will be calculated at checkout based on the exchange rate of that day: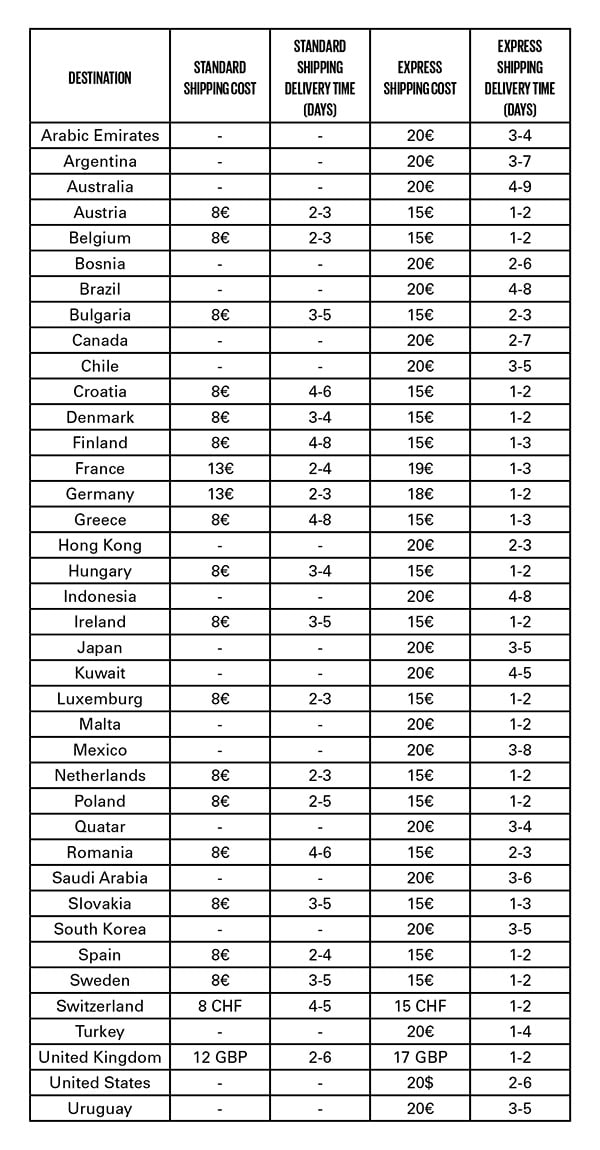 You can check the status of your order and track its delivery at any time. Enter the Order Number that you received via email in the Track Orders page. If you are a registered user, you can find all information related to the order in your My Account page.
Don't have an account yet? Register now to enjoy exclusive services.
If your order has not been delivered within the estimated period, we suggest that you:
• Check the order status: in the Orders section for registered users; or by entering the Order Number from the confirmation email in the Track Orders page
• Check that the address indicated for the delivery is correct
• In the case of a missed delivery, please contact DHL, the courier in charge of the shipment, at 199 199 345
For further assistance, contact us, we will be happy to assist you.
Unfortunately it is not possible to return a personalized item.
Once we receive your returned item(s) at our warehouse, we will refund you to the same payment method used when making the purchase.
Absolutely. We keep your personal information confidential and only give it out with your consent or if legally permitted. For further details, read our Privacy Policy.


If you have not found the answer to your question, please contact our Customer Care team.